SECO/WARWICK offers atmosphere furnace systems equipped with optional material handling equipment, atmosphere, quench and cooling systems to create a complete manufacturing cell for batch or continuous operation.

SECO/WARWICK design and manufacture atmosphere equipment for a wide variety of heat treatment processes including annealing, carburizing, nitriding, carbonitriding, hardening, annealing, tempering, forging, stress-relieving, preheat and reheat.

The SECO/WARWICK Group has extensive experience in Chamber (Box), Bell, Car, Pit, Sealed or Integral Quench, Rotary Hearth, Roller Hearth, Pusher, Cast Link Conveyor, Mesh Belt and Walking Beam furnace systems.

MONOBLOCK
The Omel liquid ring vacuum monoblock pump has improved efficiency; reduced size and weight; is insensitive to dirt; is silent, with noises inferior to the ones made by the electric motor itself.
SINGLE STAGE
The Omel liquid ring vacuum single-stage pump operates with an auxiliary liquid (usually water) in a controlled quantity. As the rotor turns eccentrically within the housing, the fluid is propelled by centrifugal force to the periphery of the housing.
DOUBLE STAGE
The Omel liquid ring vacuum double stage pump operates with auxiliary liquid (usually water) in a controlled quantity. As the rotor rotates eccentrically in the housing, the Iíquido is propelled by centrifugal force to the periphery of the housing.
DMD
The DMD metering pumps series are a compact pumps that are manufactured with mechanically operated elastomer diaphragm, hermetic head and with a robust reduction mechanism.
DMP
Developed from the design of NSP metering pump, DMP is a compact plunger metering pump, robust, monoblock construction that allows a modular system the assembly up to 6 pumping heads.
NSP
The NSP pumps are diaphragm pumps used for high precision services with a maximum theoretical capacity which can vary linearly from 0 to 100%, enabling measurements with errors up to 1%.
Controlled Atmosphere Brazing (CAB) of Aluminum using a noncorrosive flux, is the preferred process for manufacturing aluminum heat exchangers in the automotive industry. Due to the unique process benefits, the CAB process is rapidly finding new applications in industrial, power plant and HVAC manufacturing. Since entering this field in 1983, SECO/WARWICK has led the development of advanced technology in the continuous flow brazing process.

For manufacturing automotive and heavy duty industrial heat exchangers, SECO/WARWICK offers the CuproBraze®, a lead-free brazing process with no post-braze treatment required, such as rinsing.
SECO/WARWICK has the global engineering capabilities to custom engineer unique equipment for special applications.

Our engineering expertise is derived from many years of experience, a fully equipped Research and Development facility, a vast network of complimentary engineering disciplines and partnerships with technical universities. SECO/WARWICK is fully compliant with non-disclosure agreements and protects the confidentiality of each special project.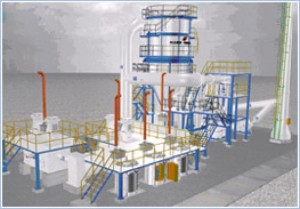 ECO/WARWICK has incinerators to handle all types of wastes be it hazardous, non-pumpable, tarry, liquid, solid, gaseous, hospital or garbage waste. Our incinerators are custom engineered in different configurations to suit the application. For example, a main combustion chamber for stationery processing and a Rotary Kiln for predominantly inorganic wastes, Pyrolyser chambers for solid tarry organic wastes, and spray incinerators for aqueous wastes.

The main chamber is followed by a post combustion chamber for complete oxidation, waste heat recovery, gas cooling and scrubbing systems, dust collector and stack.
TYPE OF WASTES THAT CAN BE HANDLED:
• Drummed solid, semi-solid, tarry, viscous organics with or without small quantities of inorganics
• Drummed high, medium and low boiling organics with or without small quantities of inorganics
• Packetted solid wastes
• Solids that can be transported / conveyed
• Aqueous of organic liquid that are pumpable with or without heating
• Liquid and gaseous and fumes
• Trash garbage canteen wastes
• Hospital and pathological / Biomedical wastes
TYPES OF INCINERATORS:
• Stationary
• Rotary Kiln
• Drum Pyroliser
• Fluid bed
• Vertical Spray
• Cyclone
• Multiple Hearth
• RTO's with special Ceramic Media
• Catalytic
SECO/WARWICK is a global leader in the supply of vacuum metallurgical processing equipment, from laboratory scale to custom engineered systems. Our advanced process technologies include Plasma Arc and Electron Beam Cold Hearth Melting, Vacuum Induction Melting and Vacuum Arc Remelting used for melting, refining, atomizing of casting reactive and refractory metals, super-alloys as well as rare earth metals.

Vacuum metallurgical equipment is manufactured globally in our facilities in China, Europe and the US. Our office in Poland is fully staffed to provide system engineering, manufacturing and service directly to the European community.

The Aftermarket Team offers a wide range of services for heat treatment furnaces. We supply a full range of maintenance services focused on keeping the equipment running. In the case of an equipment failure, we strive to minimize equipment downtime. Our services cover everything from small furnace repairs to complete equipment modernizations. Contact our Spare Parts and Alloy Fabrications Team for individual parts and small fabrications.

SECO provide a wide variety of services including:
• Productivity upgrade package
• Energy conversions
• Controls upgrades
• Technology upgrades; adding new process capability, for example: LPC + PreNit
• Furnace Start-Up
• Furnace repair service
• Equipment modernizations
• Electrical control upgrades
• Technical rebuilds or retrofits
• Equipment relocations
• Preventative maintenance programs
• New furnace linings – ceramic insulation, brick, hearth plates, etc.
• Update combustion systems to meet current safety standards
SECO/WARWICK can provide furnace parts for heat treatment and aluminum melting & holding furnace repair and maintenance. Technical assistance is available for equipment breakdowns, rebuilds, upgrades, trouble shooting and preventative maintenance through our Aftermarket Services.

We provide genuine replacement parts and documentation for SECO/WARWICK, ELTERMA and CAMLAW brand equipment.

We specialize in a variety of spare parts and fabrications including:
• Vacuum hot zones
• CAB muffles for radiation, convection and Active Only furnaces for both SECO/WARWICK and CAMLAW brand furnaces
• Fan plug Assemblies,fan wheels, shafts
• Bearings
• Radiant tube assemblies
• Ceramics
• Silicon carbide hearth plates
• Furnace retorts
• Furnace curtains
• Thermocouples
• Bayonet heating elements
• Recuperative burners
• Furnace rolls
• Maintenance agreements
• Activated alumina catalyst
• Moly heating elements
• Graphite heating elements
SECO/WARWICK offers a wide variety of furnaces for hot rolling steel billets, ingots, slabs and blooms, and cold rolling strip coils and wire rod coils.

Hot Rolling – Our steel reheat furnaces have capacities up to 120 tons per hour and can be configured with a number of different control and firing methods to achieve the highest quality product.

Cold Rolling – Mechanical properties and surface quality are important factors when annealing steel wire and strip. Our annealing technology produces excellent results with low cost per ton and consistent quality for both wide and narrow width coils.